Our Values. Your Adventure.
Welcome to a world of adventurous thinking in a school unafraid to explore boldly. Your fellow seekers will be students from across the globe who are also looking for the ideal launching point. MAKE IT HERE.
Human Centered

Our academic philosophy is grounded in understanding how organizations influence the people they serve. Faculty, centers, and work-study partnerships create new insights of human behavior through research and analysis. Socially engaged learning sharpens our students' business instincts and emotional intelligence. Do you want the world to change? Learn to inspire it.
Future Focused

The past is not a growth opportunity. Enlightened classroom discussions and experiential learning empower you with confidence to stretch beyond the world as it stands today. Curriculum, research, programs, and technologies are updated constantly to foresee and capture undiscovered markets. You will understand why The University of Texas at Austin promises, "What Starts Here Changes the World."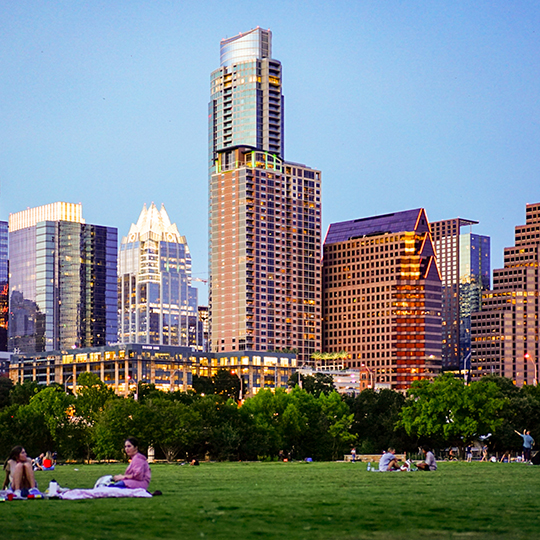 Innovator Connected

Welcome to a vibrant campus embedded in the fastest-growing entrepreneurial hotbed in the country – Austin, Texas. Here, innovation happens at light speed. Texas McCombs' faculty members, research activities, and experiential learning programs will entice you into the epicenter of forward-thinking growth and excitement.
Collaboratively Minded

Our students are driven to succeed – and they prefer to do it in tandem with you. The competitive spirit is high here, balanced by collective energy that thrives from diverse strengths, viewpoints, and desired life goals. At Texas McCombs, there is always room for one more high achiever at the table. Join us in the journey, and make it yours.
IT'S YOUR FUTURE TO MAKE
Make it Better for Humanity Here
The University of Texas at Austin is a Tier One research institution dedicated to expanding human knowledge through research and scientific analysis.
McCombs faculty members rank No. 10 worldwide for research productivity with a global focus on growing faculty capacity by 10 percent.
Partnership with UT's Dell Medical School on graduate studies in health care management is dramatically improving the delivery of health services.
Study at McCombs has leaped past the old-school lecture hall to encompass technologies and teaching approaches that encourage collaboration across multiple locations, timeframes, and learning styles.
Make it Leap-Frog Ready Here
Make it Boldly Creative Here
Austin is America's fastest-growing metro area, with more than 150 people moving here each day from business and industry centers around the world.
Texas McCombs is No. 14 among entrepreneurial MBA programs (U.S.), and the Herb Kelleher Entrepreneurship Center promotes cross-campus collaboration on research and experiential learning activities in startup creation.
MSTC is the No. 3 entrepreneurial business school program (U.S.) driving technology commercialization and partnership between the university and leading corporate innovators.
Faculty and students tap into the vibrant Austin business and cultural community through internships, collaborative research projects, and partnerships with organizations such as Capital Factory and the university's Austin Technology Incubator.
The University of Texas System is No. 3 in the world for U.S. patents granted to academic institutions – a status driven by its massive contributions to leading-edge research, technology development, and student-based startup support.
Make it Together with Others Here
McCombs students, by their very nature, can't be bucketed into stereotypes. Individual strengths are valued here, as reflected in our educational culture.
Texas is a big state with a diverse population, a multi-faceted economy, and an expectation of negotiating disparate views and opinions. If you're new to Texas, prepare to be pleasantly surprised.
Programs such as the BBA Women's Council, BBA Diversity Council, and Target Your Future (for first-generation students) provide an avenue for students of diverse backgrounds to feel represented and heard.
Our faculty are known for their heartfelt focus on student success – valuing mentorship, personal interaction, and teaching that inspires and engages.
Recent new technologies and teaching approaches have created a more fluid and unbounded learning experience inside and outside the classroom.
Robert B. Rowling Hall, the new graduate business education center, combines interactive classrooms, experiential learning labs, and conference facilities to build a bridge between the campus and the outside world.
Make the Most of It
The time is right – this very moment – to change the course of your career and the lives of your loved ones, now and in the future. You know in your heart that waiting is not the answer, but if you need more facts before you begin, invite us into the discussion. The first step is yours.