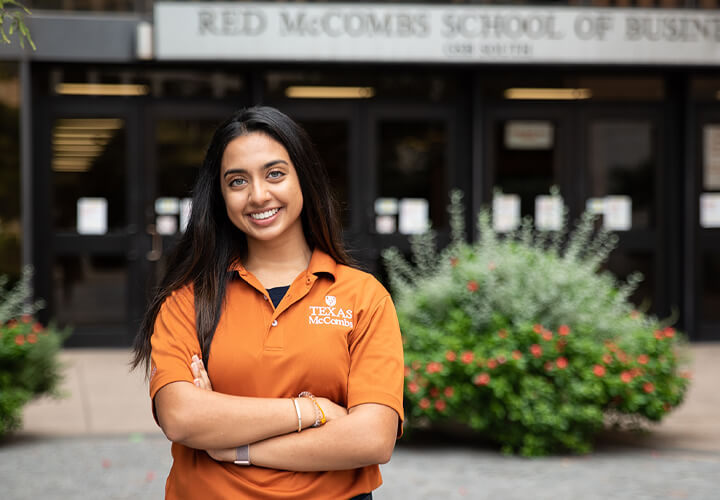 MAKE IT IRRESISTIBLE HERE
Marketing breathes life and magic into business fundamentals. Marketing professionals and scholars possess entrepreneurial passion, discipline, and grit. Sound like you? Let's make it happen.
MASTER THE SCIENCE OF DESIRE

Our marketing program introduces emerging trends in marketing practice proven by a rigorous foundation in analytical science. The multi-disciplinary curriculum includes hands-on and global experiences, with internships and study abroad opportunities. We prepare students to drive growth, build sustainable markets, and shape consumer aspirations worldwide.
MARKETING DEPARTMENT HIGHLIGHTS
Marketing Degree Programs

Texas McCombs Marketing includes the Marketing BBA, the Professional Sales and Business Development Minor, the Marketing MBA, and our prestigious PhD program. Marketing's important role in strategic decision-making makes marketing courses beneficial for students of all disciplines.

Marketing Courses

Explore the breadth of marketing courses available to Texas McCombs and non-business UT students, from marketing fundamentals to honors courses, our UTNY program, and practicum courses paired with internships.

Marketing Faculty and Research

Our faculty produce cutting-edge research in marketing, informed by collegial interaction with marketing professionals globally. That energy and enthusiasm transmit to the classroom, landing McCombs in the top ten for Best Professors (Princeton Review) for four straight years.

#4

Undergraduate Rankings

U.S. News & World Report

QS World University Rankings

#12

Global Research Ranking

Financial Times
AFFILIATED CENTERS & INITIATIVES
Center for Customer Insight and Marketing Solutions

Enhancing research opportunities, academic growth, real-world problem solving, and student career opportunities. Developing in-depth customer insight leading to customer-driven, cross-functional solutions for winning in the marketplace.

McCombs Energy Initiative

Empowering leaders to manage energy demand and resources more effectively while enabling innovative technologies grounded in sound business principles.

Supply Chain Management Center

Developing and communicating new knowledge about supply chain management, conducting and publishing research findings, and training future industry and academic leaders in the supply chain field.

STAMP YOUR BRAND BOLD

Fire up your image among the hottest brands around the world. McCombs marketing students thrive in diverse industries with small, medium, and large companies such as L'Oreal, Wal-Mart, Frito-Lay, Target, General Mills, Facebook, Apple, Google, and Macy's.
MARKETING STUDY ABROAD
Exploring another country is unforgettable, and studying abroad expands your marketing insight to cultures and markets that lend breadth to your experience. Come study abroad with some of the most prestigious brands in the world.