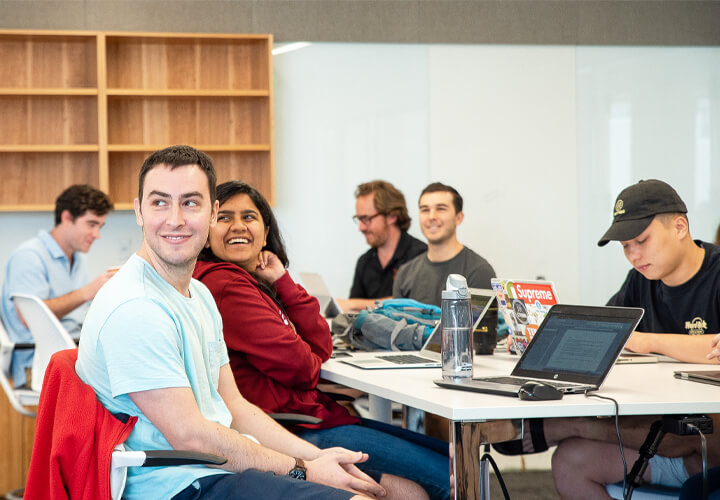 Curriculum
This 36-credit hour, 10-month program utilizes cutting edge curriculum to address the changing landscape of businesses and career opportunities. It develops foundational skills in information systems and technologies and problem solving.
Courses and Capstone

The MSITM program currently offers a number of electives in emerging technologies. The Capstone is required of all students and is an opportunity to work with real world companies to build systems utilizing technologies learned in the MSITM curriculum. With approval from the Program Director, you have the opportunity to take up to six credit hours outside of your course offering.
Design Methods
3 credits | core course
The goal of this course is to give you hands on experience using design tools and methods to understand user needs, frame business opportunities, and design solutions. The course will examine design from both organizational and technical perspectives. You will be given an actual design challenge and, over the course of the semester, guided through an iterative design process, which takes you from opportunity identification through solution definition. You will learn to conduct research with end users, synthesize data, prototype solution ideas, and communicate compelling stories. Design challenges will be focused on emerging information technologies, including IoT, cognitive computing, AI, cloud, mobile, and 3D/4D printing.
Advanced Programming & App Development
3 credits | core course
This course provides a hands-on exploration of various approaches to modern app development, including required advanced programming and software engineering concepts. The course explores approaches to app development ranging from native platform programming through programming frameworks that allow cross-platform development, to high-level approaches based on web frameworks. The course requires programming assignments for each of the approaches; a basic familiarity with high-level programming is assumed.
Financial Management
3 credits | core course
This course is an introduction to financial management fundamentals. It examines the roles of financial management in creating value and to present the analytic framework used in the study of finance.
Data Management
2 credits | core course
This course provides students the necessary skills and an understanding to be able to design and develop mission-critical database applications. At the end of the course, students should thoroughly understand database concepts (e.g., integrity constraints, Normalization), E-R modeling, relational database design, and advanced SQL. PL/SQL (Oracle's Procedural language extension of SQL) will be used to develop complex business applications. The course will cover various client and server side issues (such as optimizing communication needs, data validation, pitfalls, and security) in building web-based solutions. Students will also be knowledgeable in data warehouse design and in how to use advanced analytics functions within SQL.
Big Data & Distributed Programing
2 credits | core course
This course covers a range of topics required for developing modern applications that operate over vast data sets that are potentially distributed in nature. The course covers a range of alternative technologies and architectures for working with big data, examining the pros and cons of the different approaches. The course also covers some unifying distributed programming fundamentals that are pervasive across the different technologies. Students will also get hands on experience working with modern concepts and tools (e.g., MapReduce and Hadoop) through a series of small programming assignments.
Emerging Technologies I
2 credits | core course
This is a project-based course exploring all aspects of the IoT product life-cycle. These aspects include, (i) interfacing with the devices (sensors/actuators) that collect data and affect the environment, (ii) exploring network protocols for communication with these constrained devices, (iii) programming the back-end services that host, manipulate and disseminate the collected data and (iv) developing apps that facilitate human interaction with these devices and analysis of the data they produce. Security, privacy and performance considerations specific to IoT will also be explored.
Unstructured Data Analytics
3 credits | core course
This course builds skills in generating business and social insights from user generated content (e.g., text, images, video, etc.) by the use of text analytics, sentiment analysis, visualization techniques, etc.
Business Data Science
3 credits | core course
An introduction to basic concepts, methodology, algorithms, and technology used in business analytics and decision making. Explore concepts from probabilistic modeling, analysis and experimental design. Examine the basics of modern regression and classification, clustering, visualization, dimensionality reduction, A/B Testing and an introduction to deep learning.
Spring Term
15 credit hours
(8 core credit hours, 7 elective hours)
IT Capstone
3 credits | core course
This is a practicum course in which students apply their learning in the MSITM program to develop real-life business and social solutions using emerging information technologies. Industry partners will provide business context for IT capstone projects.
Strategic Change & IT Management
2 credits | core course
This course develops skills in strategic management of new IT-embedded product and service innovations and their incorporation into the digital business ecosystems of organizations.
IT Security, Policy, and Compliance
3 credits | core course
This course builds skills for the prevention and mitigation of data security and privacy risks in newly designed digital artifacts by covering IT governance, risk, and control frameworks and relevant laws, regulations, and industry standards.
Financial Technology
2 credits | elective course
This course is focused on three main FinTech areas in which technology is driving changes in the way financial services are provided: (i) Lending/Banking services, (ii) wealth management (iii) Trading. The course is going to provide specific coverage and examples of developments from (1) payments (2) peer-to-peer lending (3) robo-advising (4) algo/quantitative trading. In each of these areas, we start by analyzing the marketing place, the incumbents, and the business case and strategies of the incoming technology players. We then turn to understand the role data and analytics plays in driving the technology-based services. Guest speakers augment the discussion by offering their perspective on future trends in each of these areas.
Blockchain Solution Development and Smart Contracts
3 credit | elective course
The mission of this graduate course is to educate students on the fundamentals of Blockchain technology and give them hands on experience in developing Smart Contract based Blockchain applications using the Enterprise Ethereum and Hyperledger ecosystems. These two ecosystems are emerging as the de facto standards for Smart Contract development.
Introduction to Deep Learning
2 credits | elective course
The last decade has brought remarkable advances in Machine Learning algorithms, platforms and computing architectures. The frontiers what data science and AI can accomplish is currently progressing much faster than what was previously considered possible. Even for those not on the front lines of research, a basic working knowledge of the latest algorithms, business applications and limitations can provide a fundamental advantage.
This course will explore precisely this, through hands on, project-based coverage of Deep Learning and Artificial Neural Networks. The course will use Python and Tensorflow, among other tools. Covered material includes convolutional neural networks, recurrent neural networks and generative adversarial networks. Applications include computer vision, image and time series modeling as well as computational aspects of deep learning over big datasets.
Students are expected to have a basic knowledge of machine learning and data science, as well as a basic knowledge of Python.
Introduction to Online Learning
1 credit | elective course
Online learning is a sub-field of machine learning, where decision-making is done in conjunction with collecting new data. Such systems that learn "on the fly" have an inherent tension between exploitation (using previously collected information to make the "best" decisions now) and exploration (making decisions that are not necessarily optimal, but better explores the search space to collect fresh data). Applications of these ideas are important in a variety of settings, including recommendation systems, online advertising, A/B testing, drug testing, reinforcement learning, and autonomous driving.
This short course will overview the basic probability concepts and introduce algorithmic approaches to online decision-making. Throughout, we will highlight the application of these algorithms in decision-making platforms (e.g. online advertising, personalized recommendation systems for products). From a technical viewpoint, the course will introduce greedy exploration, the principle of optimism for decision-making, and Bayesian approaches (e.g. Thompson sampling). The class will be structured around a sequence of programming assignments that will provide intuition on the application of these ideas.
Digital Technologies and Business Innovations
2 credits | elective course
This course introduces students to the role of digital technologies in managing and innovating business processes. Students will learn about the IT capabilities needed by firms to co-ordinate their activities, collaborate with business partners and make decisions. The course will illustrate the role of technologies like IoT, Block Chain and AI and how these technologies interface with enterprise technologies such as ERP and CRM to improve business performance. Students will also learn about collaboration technologies such as XML, web services, and microservices.
Technical Dimensions of Cybersecurity
1 credit | elective course
This course is a hands-on introduction to technical foundations of cybersecurity. It starts with secure software development principles and methods to enable students to design security into IT applications. Next, the course discusses security vulnerabilities in database management systems and how to protect against them. Third, the course covers hacking techniques commonly used to identify and exploit vulnerabilities in computer networks, operating systems, and applications. Fourth, the course makes an introduction to security of internet of things (IoT). Finally, the course explores the emerging adversarial attacks on machine learning systems, and discusses how to protect ML systems from such attacks. The course balances theory and application. By hosting ethical hackers as guest speakers, the course creates opportunities for students to learn and apply ethical hacking techniques.
Human Dimensions of Cybersecurity
1 credit | elective course
Despite millions of dollars invested in cybersecurity every year, the number of information security breaches continues to climb. Many managers and executives derive a false sense of security from the perception that "cybersecurity is an IT issue." In practice, technological safeguards are necessary but insufficient to protect organizational and customer data. A comprehensive information security and cyber risk management program must also address the many threats posed by human actors – not just hackers – both inside and outside the organization. This course explores both the risks and the opportunities posed by human interaction with organizational and customer data. Drawing on behavioral science, students will consider interventions for engaging employees in building a cyber-safety culture, aka a "human firewall."
Data Governance and Privacy-Preserving Data Analysis
1 credit | elective course
As our society becomes increasingly information-driven and analytics centric, the most important asset is not just data contents, but also its integrity: quality, protection, reusability, availability, etc. Assuring continuous Data Integrity throughout the enterprise requires Holistic Data Governance: end-to-end leadership and collaborative culture, optimal architecture design and excellent execution, and a long-term ongoing improvement and resilience program. This course prepares future data and IT professionals with the principles and practice of Holistic Data Governance, including conceptual understanding of the modern data architecture, key risks associated with its components and as a whole, regulatory and ethical considerations of data management & analytics use related to current technology trends. Students will also learn techniques to anonymize data sets, measure the degree of privacy loss, apply trust and safety principles in designing an analytics solution.