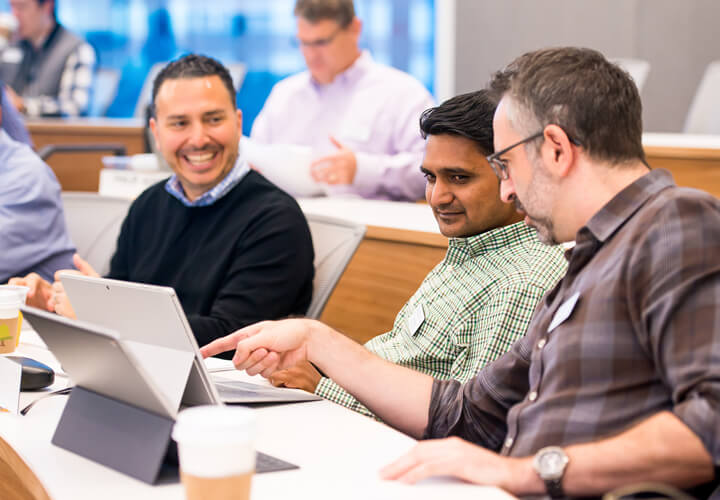 The First Ever Go-to-Market Graduate Program
A top-ranked, STEM-designated degree, MSTC remains one of the most popular and diverse programs for innovators who want to break into the market.
Alternating Weekends. In-Person or Online. Business First.
We've built our program around educating working professionals, and our structure reflects that.
Flexible Schedule
Designed for working professionals, students attend class every other weekend — Friday evening and all-day Saturday — either on campus or online via remote conferencing. The summer semester begins with a week-long residence in Austin. Then, the fall semester kicks off with a week-long intensive, in-person or online. In December, during the last stretch of the fall semester, you'll apply your knowledge as part of a global trip to locations such as Singapore, Portugal, or South Africa.
Online Option
Participants may choose to attend class weekends on campus in Austin or via online web conferencing. You can also utilize a combination of the two options— Classes are recorded so you may watch the lectures later if you are unable to attend class or just want to review. Our online students follow the same rigorous curriculum as the students that attend in-person, and the majority of project teams will have a combination of both online and in-person students. Online students attend via live web streams and follow the same assignment schedules as their in-person counterparts. This online education option also provides maximum flexibility and convenience for those who work or reside beyond the Central Texas area.
Business First
First and foremost, your MSTC degree is a business degree that focuses on profitability and bringing new products and businesses to market. You will be asked to do technology market research but, unlike other tech entrepreneurship degrees, you do need to understand how to build the technology or how it works to be successful. Your instruction will center on what the tech accomplishes in the market and who your customers will be. That's not a technical question, that's a business question.
Discover More About Our Program
Curriculum

Our curriculum teaches you to develop market strategies for real-world technologies and innovations.

Director

Our director is a Texas McCombs MSTC grad and entrepreneur here to help you succeed.

Faculty

MSTC professors are industry leaders with top-notch experience in and out of the classroom.

Academic Calendar

The MSTC program runs from May to May, usually meeting on alternating weekends.