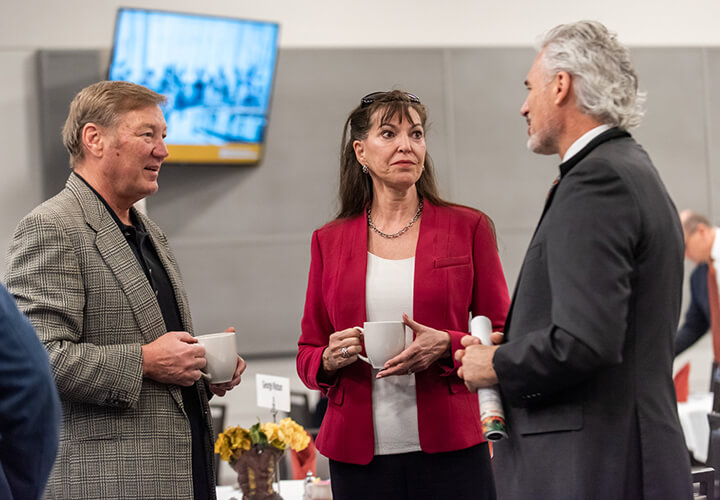 LEADING BY EXAMPLE
The future of wealth management is shaped by those who lead, research and build connections within the industry. We tap that network to recruit and train new talent.
A NETWORK OF EXPERTISE AND ENTHUSIASM
The Wealth Management Network (MWMN) supports industry engagement in the Wealth Management Program at the University. We connect corporate partners with the talent and resources of our students and graduates, build connections across the industry, and enable cutting-edge research.
YOU AND UT SHAPING THE FUTURE

The McCombs Wealth Management Network (MWMN) brings together wealth management professionals, faculty members, researchers, and students. Your participation drives innovation in the field, guides education, and opens doors for young talent entering wealth management careers.
NETWORK BENEFITS
A seat on the Wealth Management Network Board
Complimentary participation in a Wealth Management industry conference held by the MWMN
Exclusive networking with like-minded firms and industry leaders that are part of the network
Receive cutting edge research published from the Texas McCombs program
Facilitated access to professors, lecturers, and researchers affiliated with the program
Access to program sponsored conferences and events
Acknowledgment of partnership through online, communications, marketing, and social media outlets
RECRUITING BENEFITS
Potential to lead a class on a select topic relevant to the course
Student Networking Opportunities: Mentorship, internships, student resumes
Build awareness of your organization among future wealth management leaders
TAKE YOUR SEAT AT THE TABLE
Collaborations between industry leaders, professionals, and universities are powerful influencers of societal change. Please consider a mutually beneficial partnership with Texas McCombs to develop a world-class wealth management educational program.