Link Up and Lead Out
Your personal experience and skills, and those of your organization, can pay it forward for students, faculty members, and peer executives. Together, we have unlimited power to better our world.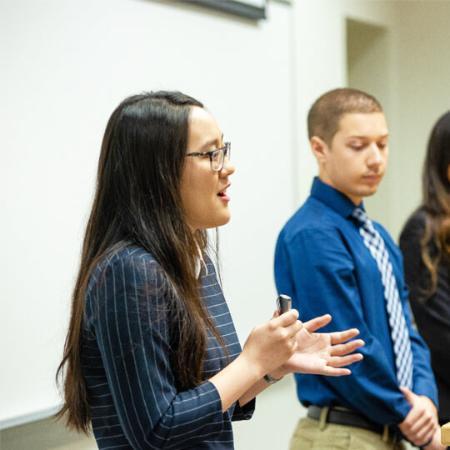 Impactful Programming

The Center for Leadership and Ethics draws corporate partners to add context and expertise in developing curriculum and program development for our students across all McCombs degree programs. Your professional insights ensure students have the skills and self-awareness to move seamlessly into ever-greater areas of responsibility and leadership.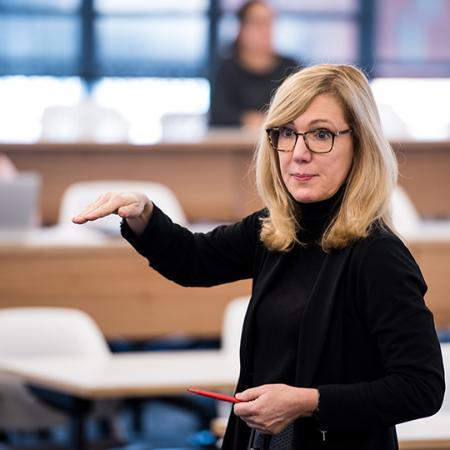 Insightful Research

Join our corporate partners and participate in groundbreaking organizational research. The center partners with organizations on applied research projects (e.g., analyzing engagement surveys) led by our faculty and research staff, providing a larger funnel for more rigorous research collaborations in the future.
BECOME AN ADVISORY COUNCIL MEMBER
Our Executive and Associate Advisory Councils improve leadership and ethics education and advance McCombs' reputation as a leading source of leadership and ethics education and research resources for the world. Council members join for a three-year term and meet semi-annually. Council members are engaged with the Center's faculty and leadership team while also interacting with students at the graduate and undergraduate levels.
Executive Advisory Council
Janet Bates

President, JMB Texas Family Interests

Jon Berger

Managing Director, Accenture

Marshall Eubank

President, SEG Interests, LLC

Fred Herbert

Managing Director, CIC Advisors (Advisory Council Co-Chair)

Jeff Herbert

Owner, J. Herbert Consulting

Marty Meekins

Managing Partner, Co-CEO and General Counsel, Emory Oak Partners (Advisory Council Co-Chair)

David Sammons

President and CEO, Subaru Distributors Corp.

Eric Stumberg

Co-Founder, CEO, President, TengoInternet, Inc.

Associate Advisory Council
Ginny Allen

President, Kagin 3 Company

Lisa Fancher Blonkvist

Senior Vice President, Family Wealth Director, Morgan Stanley Wealth Management

John Briscoe

Consultant, Energy Consulting

Max Brodsky

Enterprise Account Manager, Amazon Web Services (AWS)

Emily Dreyer

Vice President, Dell Technologies

Dave Hendrix

Senior Software Executive and Advisor (Retired)

Andy Mathis

Principal, Amazon Business Development

Bob Orkin

President, Robert Orkin Interests

Peggy Wang

Partner, PwC Trust Solutions Private

Keith Wulffraat

Chief Procurement Officer, TalentNet

Sean Dougherty

Strategic Finance, PepsiCo

Caroline Peterson

Operations Manger, Amgen

Anne Robillard

Business Development Manager, University of Texas at Austin