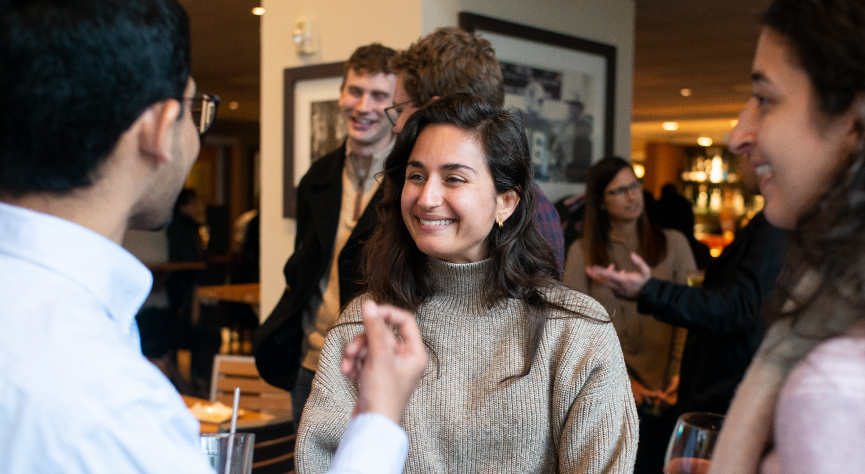 Leading the Texas Way
You will eventually leave the Forty Acres, but we trust you will never leave behind the Texas spirit of principled leadership. As a Longhorn, now is the time to earn your leadership spurs.
Leadership Coursework
Infuse your graduate business experience with leadership power as only McCombs can do it. Collaboratively competitive, innovation-driven, and focused on the future.
Leading for Impact
You will forge leadership skills hand-in-hand with your student team members and local business and organization leaders during this two-year course. Get ready to expand your emotional intelligence, appreciation of difference, and personal leadership strengths, culminating in a Capstone experience working with an Austin non-profit. McCombs' Rowling Hall puts you right in the nexus of Austin's vitality, entrepreneurial vibe, and zest for taking on the improbable. This MBA experience will impact the rest of your career.
Moral Leadership
We need leaders who will do the hard thing, the right things – not the popular things. Leaders who will reshape the future of work, create meaningful career paths for employees, and enable their organizations to thrive. This MBA elective course will help you better understand how to harness the wisdom of spiritual traditions along with moral reasoning to pursue virtuous leadership. An integrated life consisting of high morals and empathy joined to the worthy pursuit of careers in economic enterprises (which includes almost all professions at scale) is one of the most potent forces for good in the world. This course will help you discover and create more meaning within your work.
Performance and Sports Analytics
Sports may be one of the best lenses through which to learn about leadership. People of all ages grow to idolize athletes and teams, propelling brand attachments that last a lifetime. Higher education traditionally lacks courses to support the study of sports as a business, including the leadership and ethics lessons that apply across all industries. Our program uses sports analytics to tackle business challenges, demystifies pathways to careers in the business of sports, and helps develop new analytical tools using computer science, mathematics, and statistics. Includes an MBA elective in Sports Analytics.
THIS IS HOW LEADERSHIP IS EARNED
Leadership won't come looking for you. Your college experience will only lift you as far as you can leap, stretch, and challenge your core beliefs and abilities. Consider how you will build your discipline skills around principles of influence and persuasion. We can lead the way.
Leadership Experiences
Our coached experiences enable you to face leadership challenges involving conflict, diverse interests, and resource constraints. Welcome to the real world!
CLE Fellows
This selective program offers first-year MBA students the opportunity to partake in leadership-focused workshops and instruction in the spring semester in preparation to mentor incoming first-year MBA study teams in the fall.
Students participate in a weekly lecture and discussion series led by guest speakers ranging from heads of Fortune 500 companies to renowned professors and experts in fields such as behavioral economics and ethics.
At the start of their second year, our CLE Fellows work closely with incoming first-year student groups to ensure that each student has positive guidance as they launch their MBA experience. Our fellows maintain close-knit relationships with one another and serve as coaches, advocates, and friends as they continue recruiting and exploring life after McCombs.
Leadership Expedition
On the McCombs MBA Leadership Expedition, you will hone practical leadership strategies and outdoor technical skills over ten days of travel amongst the isolated mountain valleys, ragged icy peaks, and swift-moving rivers of Patagonia. Daily, you will be challenged to exercise individual decisiveness while facilitating excellent teamwork skills relevant to school and business. This wilderness expedition supports McCombs's classroom curriculum by providing lessons that are immediate and lasting.