TRANSFORM YOUR ORGANIZATION
Texas Executive Education builds one-of-a-kind, dynamic learning experiences with proven outcomes to meet your organization's unique learning and development needs.
CUSTOM PROGRAMS MADE FOR YOU

Leverage the expertise of The University of Texas at Austin to develop your organization's next generation of leaders. Texas Executive Education has more than 35 years of experience creating custom programs and learning experiences for local, national, and global organizations.
Generating Forward Thinking
The relationship we've formed with Texas Executive Education over the last ten years of this program is truly special. You know us. You know our culture. Your professors understand our issues, and connect on a powerful level with our management team.
Who We Serve

No matter the field or industry, we design programs that empower your organization to work smarter and achieve better outcomes. We work with Corporations, Government Agencies, and Nonprofits & Associations.
CUSTOM PROGRAMS TO SUPPORT YOUR GOALS
Address Disruptive Change

Change corporate culture | Identify new opportunities and accelerate innovation | Strengthen critical thinking and decision-making

Develop Future Leaders

Develop data-driven decision making | Offer experiential learning in difficult situations | Simulate real-world problems your organization will face

Launch Strategic Initiatives

Get training tailored to your unique goals | Align dispersed and siloed teams | Connect research with practical solutions

Make Your Office a Classroom

We'll bring a customized program to your corporate campus(es) anywhere in the world. This is a great option to reduce costs or minimize time away from the office for busy teams.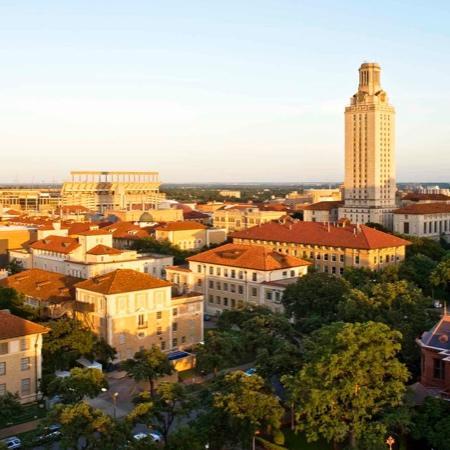 Bring Your Team to UT

Getting away from the office can offer your team a dedicated time to focus on the goals at hand - away from the normal office disruptions. UT offers world-class facilities to support groups of any size for a day, a week, or even longer.
Make It Stick

Maximize the impact and ROI of your program with follow up group coaching. Help your team apply what they've learned in the classroom long after the program ends, through scheduled coaching sessions that foster peer support and shared accountability.
Expertise You Can Trust and Believe In
35+

Years Developing Programs

2000+

Custom Programs Delivered
TRANSFORM YOUR ORGANIZATION IN 5 STEPS
Tell Us About Your Organization

Complete our initial assessment and exploratory meeting to help us understand your business goals, organizational challenges, requirements, participants, and desired outcomes.

Review Our Proposed Custom Program

Faculty and program directors create a detailed curriculum with a delivery plan and timeline that includes a measurement methodology to support your stated goals and expected outcomes. Your custom program is specifically tailored to address the issues and opportunities your teams face each day.

Receive Your Custom Program

Your custom program is delivered by our world-class faculty using a range of methods such as cases, simulations, group exercises, and experiential learning to begin empowering your teams.

Attend Class and Apply Learnings

After delivering your program, we help your teams apply what they've learned with follow up sessions, action learning projects, and individual coaching.

Evaluate Your Program

To help you understand the return on your investment, we perform post-program surveys and interviews with participants and supervisors to evaluate both the program's immediate and lasting impact on your organization.
6 Steps to Design a Custom L&D Program

A university can partner with you to design an executive education program that meets your unique needs. Learn 6 steps towards designing a customized executive education program that meets your organization's unique needs.
YOUR ORGANIZATION'S NEXT BREAKTHROUGH
Custom Programs at Texas Executive Education are highly personalized. Designed to teach your team innovative solutions, your organization will emerge ready for the challenges and new developments your company faces.