Building Engagement: What Leaders Do to Manage Talent
November 9-10, 2023 | 8:30am - 4:30pm | UT Campus | $2,950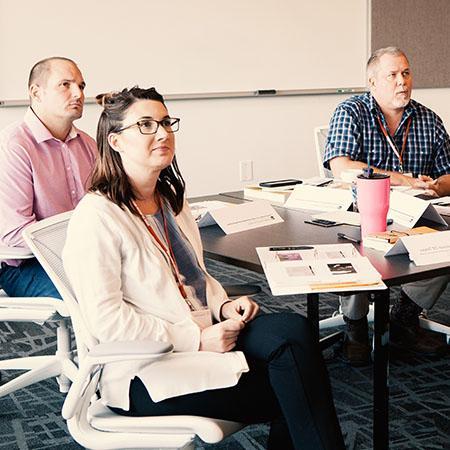 ANALYZE WHY WORLDWIDE LEADERS ARE SUCCESSFUL

Formal and informal leadership acumen is essential to creating engagement in today's competitive work environment. Examine what it takes to "make it" as a leader. Discover practical moves successful people make to create loyalty and build commitment. Outline specific steps you can take to enhance interpersonal effectiveness and generate high levels of engagement among your co-workers.
Upcoming Sessions
| Class | Concentration | Date | Location | Instructors | |
| --- | --- | --- | --- | --- | --- |
Engagement: What It Is and Why It Matters
Analyze and discuss what leaders worldwide do on a daily basis that makes them successful
Creating an Environment that Bolsters Engagement
Create loyalty and engagement

Encourage "organizational citizenship" in the workplace

Prepare to be "interpersonally savvy" when working with others

Talent acquisition and management for engagement

Providing feedback and coaching for engagement
What Leaders Do To Create Personal Engagement
Discuss ways to communicate more effectively and efficiently

Recognize practical skills that will enhance your everyday effectiveness at work

Discover what it is that successful leaders know about how to do business—day-by-day

Discuss research findings where leaders worldwide were asked to describe what they do on a daily basis that makes them successful leaders

Grasp methods for enhancing your personal credibility in the workplace
Individuals

This course is appropriate for executives and managers in leadership roles.

Teams

Organizations often send pairs or small teams, to support the launch of new initiatives.

Requirements & Credit

There are no prerequisites for this course. Participants earn 1.4 CEUs and/or 14 CPEs for this course, as well as a certificate of completion. Our classes are available for university credit. Please contact us for more information.

Learn from Peers & Professors
Featured a dynamic duo of professors, whose contrasting styles of teaching engaged and challenged us. They combined real-world lessons and interactive exercises that allowed us to learn not only from them but from each other, and they brought out the best in all of the participants. I highly recommend this course for anyone – regardless of their role in their organization.
Demonstrate Your Expertise with a Certificate
Reimbursement Options

Learn more about course credits and options for course reimbursement. Get tips on the best way to approach your manager and download a customizable template to facilitate making the ask.
Course Location

In person courses take place at the AT&T Executive Education and Conference Center and adjoining Rowling Hall on the UT campus in Austin. These world-class facilities provide a comfortable and convenient learning environment, with direct access to the 40 acres of campus and within walking distance of downtown Austin. Live online and on-demand course options are available for many courses.
Developing Trust in Leadership: Challenges of Today's Work Relationships

Trust is necessary for bringing about change and promoting collaboration in teams.

Working and Leading While Dispersed: What Matters Most

Remote teams have become the way forward for many orgs, so it's essential to learn skills to nurture a healthy virtual team culture.

How Savvy Negotiators Use Communication Channels

We have many ways to communicate and different channels are suited for different kinds of messages.