Applied Innovation for National Security: Theory & Practice
Starts February 6, 2023 | Virtual & UT Campus | $8,500-$12,500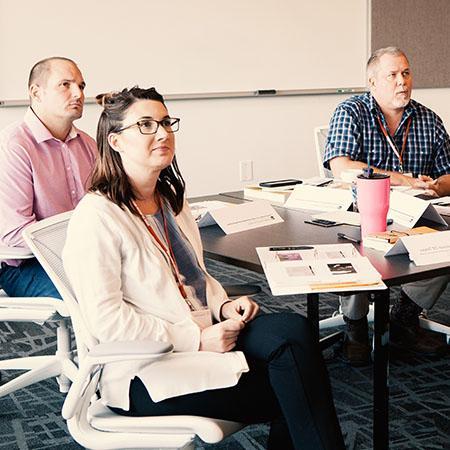 Build a National Security Innovation Base

The current pace of innovation threatens national security. According to the Department of Defense, maturation and integration of critical emerging technologies is vital to maintaining the United States' national security. The national security enterprise faces three significant obstacles to success. Learn about these obstacles and a model for addressing them, the Materiel Innovation Pipeline.
Enroll in Applied Innovation for National Security: Theory and Practice
There are two options for this course: Applied Innovation for National Security & Applied Innovation for National Security - Capstone. To enroll in both the course and the capstone, add both items to your cart using the Enroll button.
Government Discount
We offer a discount for those working for the government. To obtain the discount, enter GOV30 at checkout in the Promo Code field.
Upcoming Sessions
Kevin Landtroop
Joseph Kopser
Kevin Landtroop
Joseph Kopser
3 Obstacles to Success in the National Security Enterprise
The national security enterprise faces three significant obstacles to success:
We have no way of knowing what specific systems or capabilities to develop, because we cannot predict how, when, where, or who we will fight.
Our Soldiers, Sailors, Airmen, Marines, and Guardians do not understand these emerging technologies or how they will impact the conduct of warfare.
The Defense Acquisition System lacks the agility to quickly develop and integrate emerging technology.
The Materiel Innovation Pipeline
Learn a method called the Materiel Innovation Pipeline.
Learn to apply the model in various materiel innovation and technology scenarios: hardware, software, stand-alone solutions, integrated solutions, etc.
Identify weaknesses and unproven components of the model
Conduct research and deliver findings on your identified topic (capstone)
How to Apply Materiel Innovation in Real-Life Scenarios
Identify a Capstone topic that addresses a deficiency in the Defense Innovation System and advances the field of

materiel

innovation
Research the Capstone topic and validate your thesis through SME-moderated, cross-functional peer seminar groups
Write a publishable issue paper presenting your research findings, and present those findings to the cohort
Participants

Professionals in the materiel enterprise looking for knowledge, tools, and references to build the National Security Innovation Base.

Course

Learn and apply the Materiel Innovation Pipeline in various technology scenarios.

Capstone

Identify, research, and validate a proposal to advance the field of materiel innovation.

Core Concepts
Gain the knowledge, tools, and references you will need to build the National Security Innovation Base.
National security innovation is a process not a product
Simply stated, if we cannot predict the next major conflict, and given the rapid pace of technology change, how can the Defense Acquisition System possibly equip a force today for an unknown tomorrow? The answer is that it cannot, so rather than a product, the Defense Innovation System must necessarily deliver a process that is repeatable, scalable and sustainable.
20,000 solution providers are better than 20
A small number of Defense Industrial Base companies capture the vast majority of all DoD spending. At the same time, venture capital investments are exploding year-over-year, and specifically, investments in emerging technologies considered critical to national security. Venture backed technology startups are the core of the innovation base.
Do not try to turn technology startups into defense industry companies
The flywheel of innovation depends on a continued flow of venture capital. Venture capital depends on returns – those Startups successfully converting innovation into products that capture market share. If we divert startups too far from their commercial product roadmap and go-to-market plan, we risk their growth. Do it too many times, and we risk the dual-use investor thesis altogether.
The Defense Acquisition System and the Defense Innovation System can work together, and they must work together
This statement is more theory than model, making Applied Innovation for National Security something of an applied research practicum. The Defense Innovation System has proven the ability to attract and qualify Startups, develop, and validate use cases, and build and prove prototypes. This pipeline of materiel innovation must connect to the Defense Acquisition System in order for us to integrate, scale, and deploy those solutions in a repeatable, scalable, and sustainable way.
Course Schedule
View course dates and details on the two attendance options.
Reimbursement Options

Learn more about course credits and options for course reimbursement. Get tips on the best way to approach your manager and download a customizable template to facilitate making the ask.
Course Location

In person courses take place at the AT&T Executive Education and Conference Center and adjoining Rowling Hall on the UT campus in Austin. These world-class facilities provide a comfortable and convenient learning environment, with direct access to the 40 acres of campus and within walking distance of downtown Austin. Live online and on-demand course options are available for many courses.