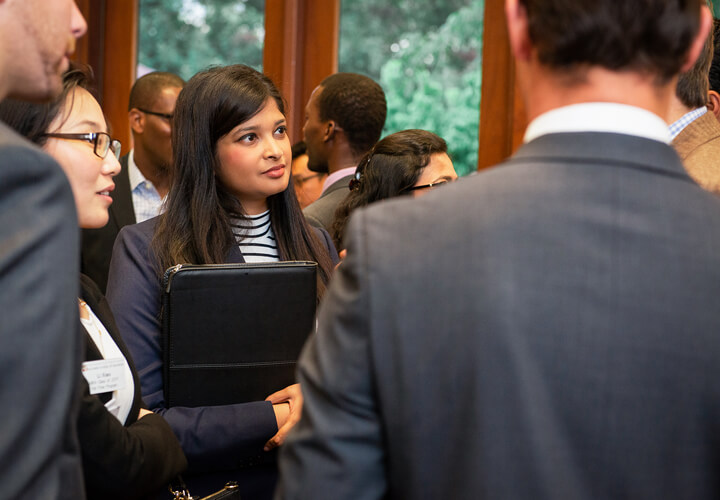 Support Programming
In addition to recruiting, there are other ways to build your organization's presence on campus and help students learn. Employers can work with students on capstone projects, attend networking events, and more.
Support Up-and-Coming Student Leaders
We offer a variety of opportunities for employers to have meaningful engagements with McCombs students, including our Diversity and Early ID initiatives. Through your program sponsorship, you have the opportunity to connect with top business students.
BBA Programming
BBA Level Up Engagement Series
The McCombs Career Management team is excited to introduce the new BBA Level Up Engagement Series this fall. There are three new programs for our employer partners to have the opportunity to deeply engage with our BBA student population during these multi-employer events. Please see more information below:
Level Up: Creating Inclusion and Belonging in the Workplace
Duration: Academic Year
This program offers students insight into employers' inclusion and belonging programs, resources and leadership goals as well as the skills to operate and collaborate effectively, with a mind-set that transcends geographic and cultural boundaries. Employer partners will share suggested frameworks to build cultures of respect and allyship which students can apply in their campus communities and as future leaders in the workforce.
Level Up: Technical Skills
Duration: Academic Year
A career upskilling program designed to allow students to explore skills and expertise needed in a variety of technical and analytical roles through experiential learning, trainings, and workshops. Open to any McCombs BBA student, the goal of this series is to successfully support and train all students as they explore career opportunities requiring technical proficiency across all industries.
Level Up: Leadership Skills for Career Success
Duration: One Day Leadership Conference (Spring Semester)
A one-day conference created to develop student understanding of leadership skills necessary for transitioning successfully into the workforce. This opportunity provides a forum for students to network, learn from employers, and hone in on specific leadership and career development competencies consistent across industries.
MBA Diversity Forum
Texas McCombs Career Management and Corporate Relations is committed to supporting students and alumni with their growing concerns about Diversity, Inclusion, and Belonging issues and how potential employers address these issues.
The McCombs MBA Diversity Forum offers employers the opportunity to showcase their Diversity, Inclusion, and Belonging initiatives and focus on key issues and trends in the workplace. This event is an excellent opportunity to brand your organization as a company of choice with Texas McCombs MBA affinity organizations as well as expose your company to high caliber, prospective candidates considering top business schools.
Student Organizations
Student Organizations enhance our students' community by providing academic and professional development. They help build students build their resume, gain valuable leadership experience, and give back to the larger university and Austin communities through service and outreach projects. We have many organizations you can target by interest, major, cultural identity, and business fraternities.
McCombs Student Organizations (BBA and MPA)
Capstone Courses
Sponsor semester-long projects the provide our future leaders with an opportunity to experience and solve "real world" challenges while creating immediate business value for your organization.
Experiential Learning
Get involved with the McCombs Plus Program! The Texas McCombs+ Global & Experiential Learning program is a professional development program designed to grow influential business leaders through a customized series of initiatives. McCombs+ facilitates an individually tailored co-curricular experience that includes seminars from industry experts, micro-consulting projects with companies, and access to a hand-selected group of professional communication and leadership coaches.
Want to meet talented, career-ready students? Let's talk.