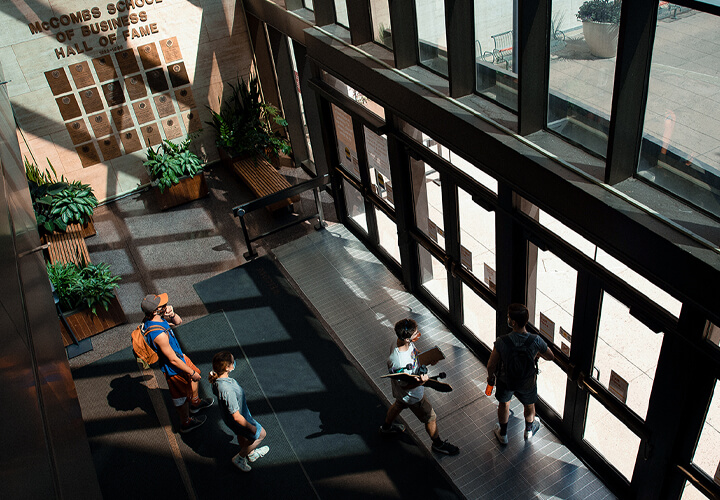 The minor in Business Analytics offers business students the opportunity to develop skills in collecting, cleaning, and analyzing data, as well as modeling and optimizing data-driven decisions in practical business contexts. Students in the Business Analytics minor gain fundamental competencies in programming, statistics, machine learning, and decision science and apply these skills to predict, model, and optimize. As business analytics has become increasingly important in all fields, this minor will be a valuable complement to any McCombs major.
Admission Criteria
Students seeking admission to the Business Analytics minor must:
Be a full-time, degree-seeking undergraduate student in the M

c

Combs School
Have a cumulative UT grade point average of at least 3.0
Have a GPA of at least 3.33 in STA 301, STA 235, and D S 235
Be enrolled in the 2020-2022 Undergraduate Catalog
Admission to the minor is based on students' overall academic record, particularly in Statistics and Decision Science courses.
Application Deadlines
Students may apply to the minor in the Spring of either the Sophomore or Junior year.
The application deadline for 2021 has been extended to August 16th.
Application Procedures
To apply for the Business Analytics Minor:
Step 1: Submit an application via the Registrar Document Submission page for minors.
Step 2: Enter your EID. From the Field of Study pull down menu, choose Business Analytics and choose Continue. On the next page, confirm your choice and submit the application.
Once admitted, you must contact your academic advisor to have the Business Analytics minor attached to your degree profile. This is an important step in the process. The credential cannot be awarded to you when you graduate from UT - Austin if it has not been added to your degree profile.